Flowers play an integral role in every kind of celebration or conveying of emotions. Whether wishing someone on their birthdays and anniversaries or sending your condolences on someone's death, flowers of different colors and variations are always the apt idea to express your emotions rightfully. Admire Florist based in Bexley North, Sydney is one of the leading names in the floral business industry. With over 20 years' experience, They understand their client's requirement fully.
At Admire florist, they have flowers for every occasion. If your life is brimming with friendship and adoration, we can design special flower for love and romance. If your loved ones have completed their studies with a great result or got a new job, we can offer the flower to say congratulations. Similarly, our team is competent enough to design flower for get well soon or flower for new baby. Flowers can always make your loved one feel special and wanted.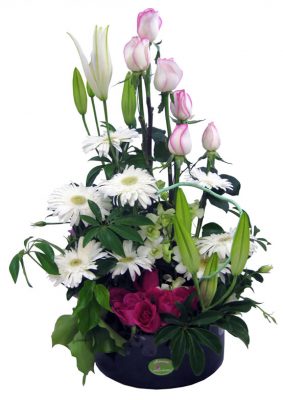 Every occasion and celebrations of life are incomplete without flowers. Wedding, mourning, thanksgiving, proposing, or any occasion it maybe, a rose or a bunch of flowers have the power to delight the mind and wish healthy well-being of your loved ones. When you surprise your close ones with a flower on birthdays or send flower to say thank you to any of your acquaintances needless of any reason, their happiness will have no bounds.
Our team at Admire Florist are friendly and knowledgeable to discuss and design the floral hamper or flower package according to the client's taste and preferences. We can help you in deciding the right color and choice of flowers as per the occasion and budget. You can customize your flower basket with your loved one's favorite chocolates, balloons, teddies, and much more.
In every chapter of celebrations, prayers, or festivals in life, flowers will forever hold a distinctive position. In addition to the remarkable beauty of the flower's shape, texture, fragrance, and color, there is somewhat more—an inexpressible, delicate and enigmatic eminence about flowers. It has this elusive soul, which makes the flowers so special.
You may log into Admire Florist and browse the flower for love and romance or flower for new baby or call us before 2 pm to order same day delivery of flowers. Whether you wish to send flower to say thank you or want to lift up the spirit of an ailing friend lying in the hospital bed with flowers for get well soon, our collection is fresh with unique design, and most importantly is backed by 100% satisfaction guarantee.
Our floral designers make your decision simple with a range of ideas incorporating your flower packages. Now, sending flower to say congratulations or flower for birthdays and other occasions are just a call or a click away. We have a vast collection of flowers, like red lilies, roses, Singapore orchids and gerberas available all through the year. Buy flower bouquets, boxed arrangements, fruit baskets, floral baskets, using our online shop or call us directly to customize your order.